Epsom and Ewell Town Twinning Association
Recent items of interest

Anglo French Quiz night
Brilliant Quiz last night with our friends from Chantilly, France. Epsom Rotary and Epsom and Ewell Town Twinning met with the Rotary Club of Chantilly and the Jumelage of Chantilly for a Franco-British quiz. We had a great evening and there are calls to do it again!
The Epsom Derby 1913
Caroline Baldock gave a fascinating talk on 14th August about the Derby of 1913 where a suffragette was hit by a horse and died and shady betting dealings were suspected! Here is a link to a recording of the talk
Carolines Talk
Bastille Day Celebrations via Zoom
A great evening of shared information , chat and fun where we were joined by Marie-Claude Fontain from Chantilly on 14th July. Diana Deavin had prepared a talk (which she shared over Zoom) about the storming of the Bastille and the events surrounding it, which was a fascinating introduction to the discussion.
Herald of Spring - Bourne Hall
Thanks to all the members who helped at the Herald of Spring exhibition at Bourne Hall. We are indebted to the relatively few members who make the effort to support their organisation. Without their help Twinning would wither and die. We met many old friends at the exhibition and recruited some new members, so a huge success I think. The stall was also up the previous evening and was seen by the Mayors of Epsom and Ewell, past and present, so a great showcase of what we do.
French Speaking Competition
Some fantastic French spoken by the young contestants in our French Speaking Competition run with Epsom Rotary and Blenheim School.
12 pupils from Epsom College, Blenheim High School and Rosebery competed at the Junior level to see who was best at speaking publicly in French. This was followed by 7 pupils at the Intermediate level.
The standard was, yet again, impressively high and the audience were wowed!! For the Juniors, First Place was awarded to Noemie Winmill (Rosebery) and Second Place was Anna Ganevitch (Rosebery). Highly commended were Toby Hopson (Blenheim) and Liliana Olivieira (Blenheim). For the Intermediates there was a distinct difference in standard between those with Francophone relations and those with no French speaker in the family. The judges decided to award Mathilde Collet (Blenheim) the Francophone prize and Caroline Young (Rosebery) the non-French speaker prize. Highly commended was Jo-Anne Winmill (from Rosebery).
Thanks to the Mayor and Mayoress of Epsom and Ewell for presenting the prizes, all the teachers and helpers who made the event possible and, of course, the judges - Diana Deavin, Christine Rippon and Catherine Legouas.
Chantilly Christmas Market 2019
A brave team of six headed out from England into a France with a tempest blowing and gallons of French rain. However the weather on the Saturday was much better and the team set up the stall and prepared for the crowds.
Click here to read Ann Dallen's report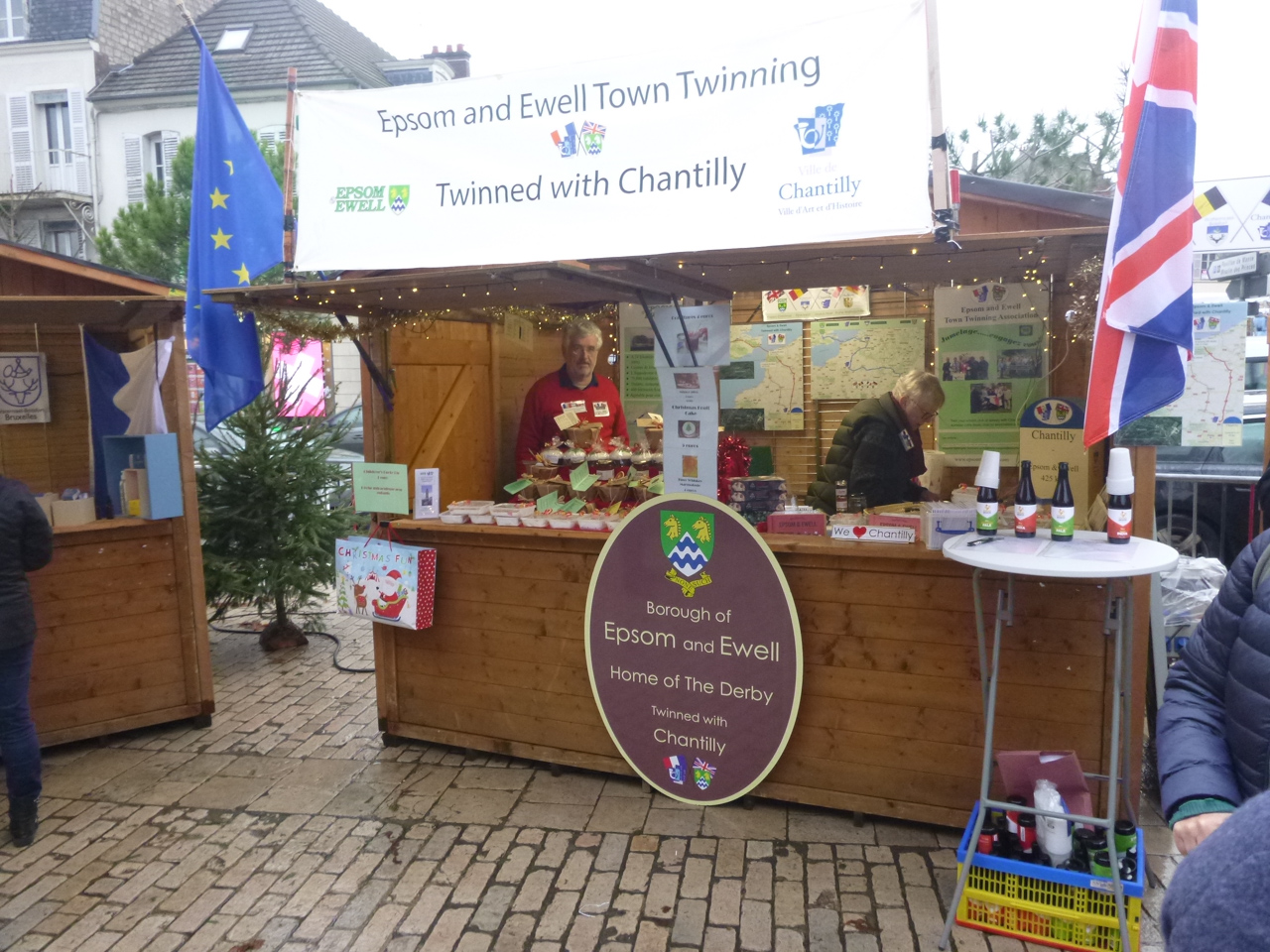 The team consited of Diana and Richard Deavin, Brian and Margaret Angus and Neil and Ann Dallen
French School from Chantilly visits the Town Hall click here
French Speaking competitions 2019

Photos of Bastille Day Party 2018 at Brian Atkinsons
24th June 2018 - "Come and Sing" with Barison's Choir.
A successful "Come and Sing!" with a concert in the evening was held at St Barnabas' Church in Epsom. We collected money for Love me Love my Mind - a local mental health charity. We sang Vivaldi's Gloria which was a glorious piece for a summer evening. The Orchestra also played The Bach Double - a concerto for two violins which was a fine start to the event. Barison's will represent Epsom and Ewell in the Chantilly Choral Festival
Senior, Intermediate and Junior French Speaking Competitions with Chantilly Rotary Club
16th Feb 2018 Quiz Night at United Reformed Church Hall
Rotary organises visit of Belgian choir to Epsom. Spring 2017
Following Epsom Choral Society's excellent tour to Antwerp last summer, Epsom Rotary Club was asked if a venue near London could be found for their 70 – strong oratorio choir "de Chorale". As a result, on 26th May we were treated to a fine, slightly unusual, concert in St Martin's. It is fair to say that the concert, under the dramatic baton of Paul Dinneweth, and including works by Belgian composers, was not quite what we are used to. The choir goes for a big sound, but with no loss of clarity, and performed with much energy. They processed in to a resounding performance of "Zadok the Priest", continuing with an arrangement of Mendelssohn's setting of Psalm 45. Van Nuffield's arrangement of Psalm 125 followed and the first half concluded with the shanty "Shenandoah", arranged by J. Erb. The choir's accomplished organist, Peter Maus, then delighted us as he put St. Martin's organ through its paces before the choir processed back in (using nave and both aisles) to the amazing "Immortal Bach" by Nystedt, in which each choir member sang their part's line of Bach's "Komm süßer Tod" (BWV 478), but in their own time! More Mendelssohn was followed by two works by Lodewijk de Vocht, the choir's founder, including part of his choral symphony in which the choir truly takes the part of the orchestra (unlike in some better known works). Finally a rousing chorus from Carmina Burana as encore, sung, as was much of the concert, without scores. Thanks are due to the Choral Society for the loan of staging and lighting and to those members who assisted with set-up, clear-up and helping to recruit a good-size audience. Richard Deavin
French Speaking Competition
We ran, in conjunction with Epsom Rotary Club, three competitions (Senior, Intermediate and Junior) for French Speaking. All three competitions were a great success
Christmas Market 2018
An intrepid band of 8 set forth again for the annual Christmas Market Trip. Laden with mince pies, marmalade, Christmas Puddings, Christmas Cakes and Crackers, not forgetting the Stilton and Cheddar we headed off on 9th Dec to cross the channel. The market runs from Saturday at 9am through to 9pm and again on Sunday, but finishing earlier. The eight of us manned the stall and we sold 90% of the produce. We met many old friends and made some new ones. All in all a successful weekend. Thanks to Clive and Mary Woodbridge, Ron and Carol Thorley, Richard and Diana Deavin and Clive and Anne Richardson.
Europe in Harmony - Choral Festival in Epsom and Ewell
June/July 2016
Well, we did it! Thanks to the tremendous efforts of the committee, our members, singers, friends and other groups in the community, the festival (30th June to 3rd July 2016) was a great success. Our visitors and audiences complimented us on every aspect of the event, everything ran smoothly, everyone was fed and housed, transported and given as much shopping time as possible. The main aim of singing together was achieved and exceeded, in our magnificent venues, and the rain only came down when there were time and places to avoid it. The marquee at Epsom College was a major factor and a wonderful space to put on a good show. Any minor hiccups passed unnoticed. Three concerts in as many days were preceded by a week of fun and song and dance in the Ashley Centre, with a good number of our local schools taking part, not to mention our visitors performing in the town following a civic welcome at the Playhouse. The visiting civic delegations were taken on a coach tour of the Borough, stopping off at the Racecourse, and being treated to tea at Nonsuch. We did ourselves and the Borough proud and are grateful for their support. We received thanks and congratulations from the Mayor and other council members who were very much in evidence throughout the weekend, and those sponsors who were able to attend. Our European visitors were thrilled and enjoyed every minute of their sadly too short stay. The best account of the weekend is shown in the pictures taken by Clive Richardson and Tony Rowe, a few of which are included here. Thanks to careful negotiation and organisation, the amazing generosity of so many, and no major disasters, we also ended the weekend in a comfortable position financially. Chantilly has bravely taken up the challenge yet again and will already be planning the 2018 Choral Festival. They have also suggested more cooperation and events involving the four twin towns together, perhaps sharing some of their regular festivals, e.g. Watermael-Boitsfort rugby tournaments, water sports in Überlingen, and maybe we can include some of them in a future Arts Festival or one of our sporting events. The committee will be looking at taking some of these ideas forward now we have recovered! Once again, many, many thanks to you all for your hard work and support for what really was a major undertaking.
Visit to the Lycee in Chantilly
Clive and Anne visited the Lycee Jean Rostand to see project work carried out by students of the Lycee on the 20 years of twinning between the borough of Epsom and Ewell and the town of Chantilly. We were met at the school gate by three students who took us in to the library. There we met around twelve students with three of the staff. The students had prepared a presentation for us and each made a short introduction in English to a section of the work they had undertaken. We were able to ask questions and comment of the work. It was really fascinating to trace back the history of horse racing in the town and to see how this made a natural link between Chantilly and Epsom and Ewell. After the presentation we were treated to a range of photographs from the 20th anniversary celebrations last year where were able to see many old friends having an excellent celebration! We then had some drinks in the central area of the library where we were able to talk to the project team and find out about them and what they wanted to do after they left college. It was an excellent morning and the pupils had worked so hard. We left them with a gift of cake to help them through the day!
Anne Richardson
Burns Night 2016
Excellent evening last night 30th Jan 2016 to celebrate Rabbie Burns. Ron and Carol Thorley had organised it and we had 54 people attend. The evening was great fun, the food and whisky of course was extremely good and with Paul Smy singing, Scottish Country Dancing with Celia, Margaret Nightingale reading poetry and Ian Hay stabbing the Haggis we had fun. We also raised something near £800 for the Choral festival funds. It was a shame that we couldn't have the festival choir singing one of Burns songs!
Clive Richardson